Capabilities
Proteus Envision® is the most comprehensive project management and controls toolkit on the market. The application provides integrated analysis of cost, schedule, and risk performance measures out-of-the-box. Built on a powerful open systems business intelligence platform, any other data sets can be integrated into the project management environment.
Project, Program and Portfolio Management

Business Intelligence and Data Visualization

Earned Value and Systems Compliance

Project Risk Analysis

Multiple Cloud Models

Comprehensive Compliance
A complete integrated project and program management, business intelligence, data capture and visualization, and application configuration solution all on one platform.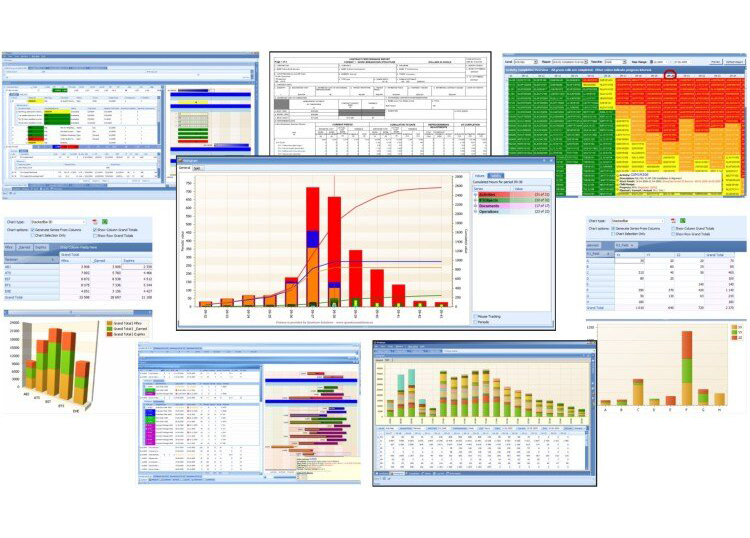 Proteus Envision is pre-configured with project controls functionality, views, charts, graphs, and predictive analytics published by all industry, DoD organizations, federal agencies, and professional PM organizations. Proteus Envision comes with native Grid/GANTT, spreadsheet controls, dashboards, charting, graphing, reporting, histograms, geo-mapping, and document viewing capabilities.
Proteus Envision also supports government compliance and project start baseline reviews out of the box. Capture of work authorization, responsibility assignment matrices, and corrective action plans streamlines project work processes.
Combined with EnvisionData and other special purpose COTS open data transformation (ETL) solutions, any environment is easily and quickly transformed to meet the needs of 21st century project-focused organizations.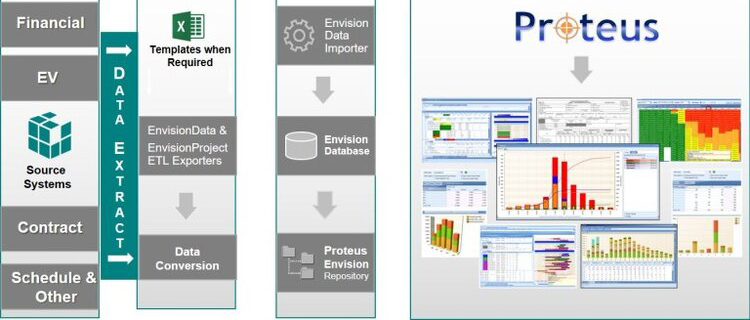 EnvisionData is the most powerful purpose-built COTS data capture and transformation solution serving the project management market today. Access to data – and its proper structure – is the key to defining your potential use of essential information, allowing you to be positioned to transition from 2D to 3D/4D project management.
Compatible with all major project management earned value and scheduling applications including from the Deltek suite, Artemis, Oracle Primavera P6, Microsoft Project, RTP, as well as any Microsoft Excel or any other flat file format.
Unlike data visualization on the fly, EnvisionData's powerful data transformation and reliability assurance ensures that data is traceable and credible.
Combined with Proteus Envision's PP/PM functionality, organizations save time, money, and labor in capturing and transforming their project data into an organizational asset, giving decision-makers and stakeholders timely information.

Custom Enterprise Hosting
TBS is the only GovCon Cloud Provider that offers truly custom infrastructure and platform solutions – built in collaboration to your specifications.

Managed IT Security
Compliance Readiness, Execution and Delivery: ITAR, FISMA, NIST, DFARS, now CMMC.

Professional and Technical Services
TBS resources deliver broad technical, functional and project management know-how to increase the performance of your systems and to save you precious time.

Aspire Project Accounting
Aspire levels the playing field for growing government contractors that need DCAA-compliant accounting and project management solutions with limited budgets.
Sign Up for your FREE 15-Day Proteus Cloud Trial.
Your Proteus Cloud Trial subscription
includes complete Proteus functionality – Integrated Project Controls plus Program and Portfolio Management – with your choice of one of three repositories – EnvisionData (Standard), DECM or IBR. Add-ons are also available for Envision Project® and custom repositories.
To get started fill out the form at right.
We'll be in touch.
With dedicated product specialists for every system we host, TBS Support is always available to assist with any access, connectivity, integration, and functional matters. With our Concierge team, we work directly with your software providers on your behalf too. Live TBS Support is ready to help during your business hours, every day, and after hours as needed for emergency fixes.